Pay via phone 0907 004 0075

Calls cost &pound1.50/min plus your network access charge.
Readings are for entertainment only. 18+.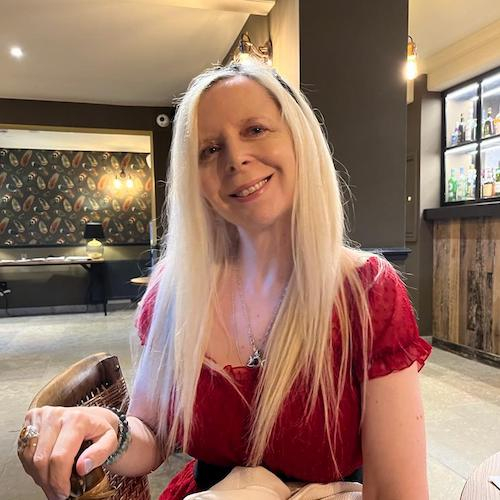 Selina
Clairvoyant, Clairsentient, Clairaudient, Counsellor, Medium, Psychic, Reiki Healer
Selina is a Clairvoyant Medium and a Reiki Master, who also has professional qualifications in counselling skills. Selina always gives her clients evidence that only they can recognise, to show that she has established a genuine link. With her intuitive understanding of cause and effect, she is able to bring clarity to the most complex and bewildering situations, while being honest and sympathetic. "I read from the heart." She says. A practitioner of Reiki, hypnosis and drama therapy, Selina has a deep reverence for nature and the divinity of Mother Earth.
Subjects
Love/relationships
Career/work
Pets/animals
Destiny/life path
Lost objects
Lost people/pets
Past lives
Deceased loved ones
Abilities
Clairvoyant
Clairsentient
Clairaudient
Counsellor
Medium
Psychic
Reiki Healer
Style
Detailed
Honest
Sympathetic
So Precise
I want to say Selina in such a lovely person to talk to. She puts you at ease and is easy to talk to. You don't have to tell her anything and she picks up on everything and is so precise.
Really Cares
I had a session with Selina and she is the most amazing person, she really cares and is very on point in what she says.
Brilliant
First ever reading with Selina, who was brilliant – she read me like a book and she brightened my day.
Connected with my Husband
Selina, connected with my husband in spirit right away, he was able to give me the messages I needed. Very accurate reading.
Cloud Nine
A honest, sympathetic psychic that tunes in straight away to you and your loved ones, giving accurate evidence that only you will relate to. She leaves you feeling hopeful and uplifted in her down to earth caring approach. Thank you Selina for lifting me up on cloud nine and making me laugh with some of your insights.
Outstanding Reader
Selina is an outstanding reader, she is very accurate and confident in her predictions. I am a scientist/engineer who is very open-minded yet sceptical about psychic readings, yet I am fully confident in Selina and I do feel she has an amazing and very empathetic insight. I would recommend Selina straigh taway! She does not sugar coat but tell you what she sees and how confident she is in her insight. She is a lovely woman with a wonderful voice to talk to :-). Thank you Selina for being my sensitive reader! I miss England...Basia from Perth
WOW!
I was most impressed with Selina, she is amazing, her descriptions about situations/ details were very accurate, she is WOW. She has a sympathetic personality and a lovely demeanour.
Amazed me!
I like Selina very much she is very kind, non-judgemental and to the point. She does not ask much and is so spot on!! She amazed me a lot! I would highly recommend her.
L, London, October 2020
Precise Advice
Selina has been a great support the last few months and has been able to always give precise advice I would highly recommend. Thank you Selina.
Anonymous, Dec 2020
Kind, Compassionate Reader
"Selina is a kind and compassionate reader who is extremely accurate!Im not surprised she is always booked up, she is one of the best!"
Helen - August 2022
Wonderful
"Selina is absolutely wonderful. Spot on, she picked up on everything! Selina is a wonderful, caring and compassionate reader, I would definitely recommend her!"
Janina - May 2023
Precise, Empathetic & wise
"My husband & I have been speaking to Selina for a while. She tells us things that she couldn't know. Selina is so precise & goes into depth giving so much information.
The readings flow nicely, giving guidance and brings clarity to situations. She is friendly & so easy to talk to makes us feel at ease.
She is patient, kind, caring, compassionate & shows empathy & wisdom. Nothing is too much trouble .
We feel she is very special & feel blessed that she is able to connect so well with us & our family & friends who are in spirit, giving us signs of who she has connected to, always spot on, just amazing. She doesn't sugar coat but tells it as it is.
Always feel so much better, a great pick me up.
Thank You Selina, you are one in a million, simply the best.
Grace and Matteo"
Grace & Matteo - August 2023